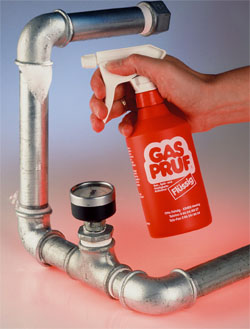 Leak detector or Leak detector spray
GASPRUF® finds every leak!
We produce the leak detector GASPRUF® according to DIN-DVGW standards for the detection of leaks in gas and air pressured pipes.
Such agents are also known as leakage spray gas, leak detector, leak detector spray, leak detector gas, leak detection agent, leak spray gas and gas leakage detector.
Simply spray suspicious areas with GASPRUF® and even the finest hairline cracks are reliably indicated by clearly visible foam formation (see image).